Online Stopwatch Help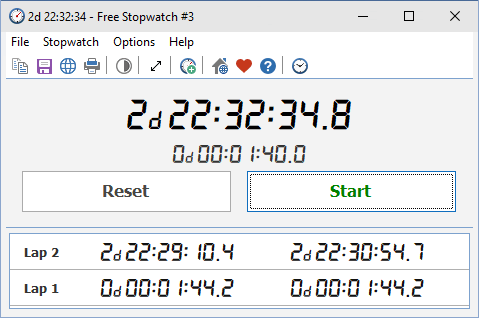 Start - Start timer.

Stop - Stop timer.

Lap - Add lap time to results.

Reset - Reset timer and clear results.

Delete - Delete selected lap.

Save to File - Export results to a text file.

Copy to Clipboard - Copy results to a clipboard.


- Timer.



- Current lap time.
If you need stopwatch software for Windows-based computer, this is the software you are looking for. Free Stopwatch supports unlimited number of laps.
Show stopwatch in floating window:


---
Free Stopwatch is a free program for personal and commercial use. This program is distributed on AS IS basis, and WITHOUT ANY WARRANTY; without even the implied warranty of MERCHANTABILITY or FITNESS FOR A PARTICULAR PURPOSE. Comfort Software Group can not be made responsible for any, direct or indirect, damage caused by the program.
Comfort Software Group reserves the right to change licensing terms in future.
---
Share with your Friends: